Page 1 - Combined_12_OCR
P. 1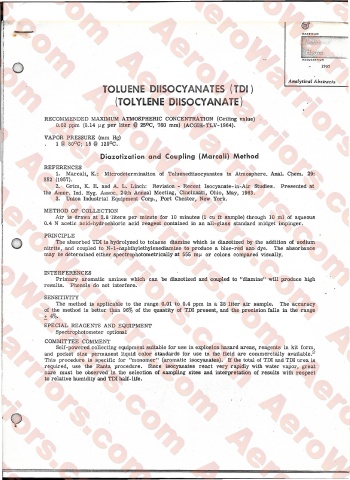 AMERICAN




                                                                                                           ASSOCIATION
                                                                                                              •   1965


                                                                                                      Analytical Abstracts
                                     TOLUENE DIISOCYANATES (TDI)

                                          (TOLYLENE DIISOCYANATE)


                 RECOMMENDED MAXIMUM ATMOSPHERIC CONCENTRATION (Ceiling value)
                     0.02 ppm (0.14 Mg per liter @ 25°C, 760 mm) (ACGIH-TLV-1964).

                 VAPOR PRESSURE (mm Hg)
                     1 @ 80°C; 15 @ 129°C.

                                    Diazotization and Coupling (Marcali) Method
                 REFERENCES
                     1.  Marcali, K.: Microdetermination of Toluenediisocyanates in Atmosphere. Anal. Chem. 29:
                 552 (1957).
                     2.  Grim, K. E. and A. L. Linch: Revision - Recent Isocyanate-in-Air Studies. Presented at
                the Amer. Ind. Hyg. Assoc. 24th Annual Meeting, Cincinnati, Ohio, May, 1963.
                     3.  Union Industrial Equipment Corp., Port Chester, New York.

                METHOD OF COLLECTION
                     Air is drawn at 2.8 liters per minute for 10 minutes (1 cu ft sample)-through 10 ml of aqueous
                 0.4 N acetic acid-hydrochloric acid reagent contained in an all-glass standard midget impinger.
                 PRINCIPLE
                     The absorbed TDI is hydrolyzed to toluene diamine which is diazotized by the addition of sodium
                 nitrite, and coupled to N-l-naphthylethylenediamine to produce a blue-red azo dye. The absorbance
                 may be determined either spectrophotometrically at 555 mg or colors compared visually.


                 INTERFERENCES
                     Primary aromatic amines which can be diazotized and coupled to ''diamine" will produce high
                 results. Phenols do not interfere.

                 SENSITIVITY
                     The method is applicable to the range 0.01 to 0.4 ppm in a 28 liter air sample. The accuracy
                 of the method is better than 96% of the quantity of TDI present, and the precision falls in the range
                ± 4%.
                 SPECIAL REAGENTS AND EQUIPMENT
                     Spectrophotometer optional
                 COMMITTEE COMMENT
                     Self-powered collecting equipment suitable for use in explosion hazard areas, reagents in kit form,
                 and pocket size permanent liquid color standards for use in the field are commercially available.3
                 This procedure is specific for ''monomer" (aromatic isocyanates). If the total of TDI and TDI urea is
                 required, use the Ranta procedure. Since isocyanates react very rapidly with water vapor, great
                 care must be observed in the selection of sampling sites and interpretation of results with respect
                 to relative humidity and TDI half-life.